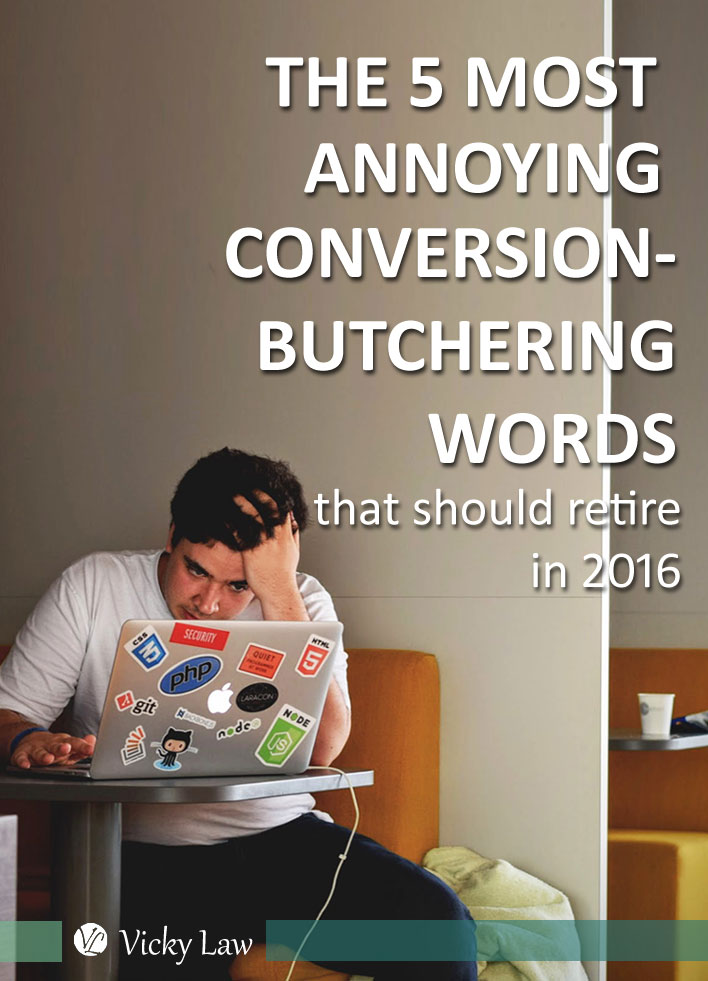 [Note from Vicky]
Tavleen from TheYouEngine.com has prepared this precious gem of a guest post that will help you make your conversion rates soar this year.  
What a great way to start the new year strong!
In this article you'll see how powerful words can be. You'll be amazed with how simple subtle changes in the way you use your words can make a big difference in your conversion rates.
So, without further ado, the next voice you'll read is Tavleen's. Take it away, Tavleen!
---
You thought a high-converting landing page is all about a flawlessly written, Grammarly-approved and Hemmingway-checked copy.
Or maybe you thought big, bright & orange Call to Action buttons can make people go clickety click.
The truth is:
You may have all the right ingredients on your landing page but if it's still not converting, you need to do a word-audit.
This word-audit will help you eliminate high-friction words that should have retired long ago but people are still using them.
If you're guilty of using these words in your copy then don't worry – bid adieu to them in 2016.
1. Spam
When you expose your prospects to a word like 'Spam', they become more wary of what's on the other side.
You may think that it helps arrest their objections to sharing their information or buying but it has a negative impact.
By using the word 'Spam', you're priming them to expect spam. The word is a big show stopper; it diverts people's attention towards the harmful impact of spamming and lowers their trust.
A test carried out by Michael Aargaard showed the surprising ramifications. He added the line "100% privacy – We will never spam you" above the call to action button.
The conversions slumped by a whopping 18.70%.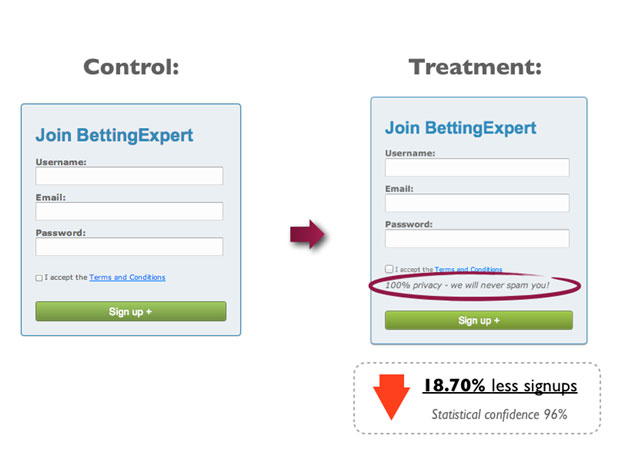 The winning variation provided a 19.47% lift. It was this statement: "We guarantee 100% privacy.Your information will not be shared."
Lead the argument on a positive note. Talk about safety and guarantee over privacy policy or spam.
2. Submit
Submit appears to be a harmless word. Am I right? It seems logical for a landing page's CTA button to say 'Submit' in bold letters.
The caveat is that people are too busy to want to submit forms, email IDs, documents, quiz results; they want to know what's in it for them. The question that instantly strikes them on reading 'Submit' is 'Why?'
Submit is a high-friction word that stops people in their tracks and gives no clues about what's on the other side of the button. This lack of clarity and sense of direction leaves one pondering over the repercussions of clicking it.
By letting your visitors nurture a doubt in their head, you end up solidifying their natural defense to taking action.
Replace the word Submit with 'Get', 'Grab', 'Claim', 'Reserve' and 'Enroll'.
Get specific. Even 'Click Here' is more persuasive than Submit because it's not just specific but also gives a command in an authoritative voice.
3. We/I
How many web pages have you spotted that talk only about them? I am sure a lot. Merely informing people about what you do, what you're good at and how many years you've been in the industry, is a one-way conversation.
Without using the word 'you', you don't draw them into your world and merely throw information bombs at them. The problem with this is that your visitors' attention spans are abysmal. If you don't bother to engage with them, there's no way that you can win them.
Replace 'We' with 'You' because it bypasses all our critical thinking gates and the bottom line hits home.
Using it is almost as effective as addressing someone by their name.
Take a look at this example from Sugarrae.com, Rae Hoffman shares her goal in a conversational tone. Notice how she draws the reader into her conversation:

She's not passing a statement or just putting her goal out there for the world to see and know. But she's taking the time to invite her readers to be a part of her journey and her mission.
She could have easily made this narrative about herself but by doing that she would have alienated her audience.
On the other hand, here's an example of a matchmaker who shares her one-sided opinions without inviting the readers into the dialogue:

She repeatedly uses 'I' to talk about her mission and belief.
Blocks of text like these kill conversions because they slay conversations and connections.
Get conversational: That's the only way to pull people in and make them excited about reading what you put out there.
4. Buy
In line with the priming theory, people have a strong, natural defense to the word 'buy' or 'sales'. This word primes them to experience the pain of parting with their money.
Your audience is cautious of being sold anything. 'Buy now' is also evocative of a sales page with thein-your-face-text and excessive use of highlighter pens.
Words like these conjure up images of slimy salesmen who don't add any value but get pushy to meet their sales target.
They tell lies, exaggerate and cover up faults of their products just to have you sign on the dotted line.
This reason why Tupperware parties are so successful is because they don't hinge the entire get-together on 'buying'.
The Tupperware Seller is not called a Tupperware Agent because that smells of slime like insurance agent does. She is called Tupperware consultant.
A part of her job is to create a friendly environment and get everyone involved.
As her designation suggests, she has to be nice, warm, and friendly and guide people to get the product that's best for them.
Don't be a salesperson by asking people to buy, be their trusted advisor and get into their comfort zone.
Start using words like 'Enroll', 'Invest', 'Get' instead of the more direct word 'Buy'.
You could also go a step further and shift the spotlight on what happens after the transaction is complete by saying 'Enroll now and I'll send you your login details in 90 seconds'.
5. Learn
The word 'Learn' is best associated with theuniversity. You go to the university to learn more about the subject you choose.
A university does not offer a guaranteed job placement but promises to educate you so that you can find a job yourself or if you're lucky, create one. You pay the university fees to learn and of course, earning is a repercussion of that.
But in the online world, information is free. You can Google anything you want without shelling a dime. And thus when you expect people to share their email ids with you or buy your program they want tangible results.
They don't want to learn how to reduce weight but they actually want to 'discover the less-known secrets to losing 20 pounds in 2 weeks'.
They don't want to learn how to build a business because if they did, they would've gone to get an MBA degree. They want to 'get access to top 5 ideas in their niche to start an online business as soon as tomorrow'.
Did you notice the subtle differences? The word 'learn' conjures up images of scribbling notes and reading textbooks without getting any tangible results in the near future.
It also gives an impression that you'll study different pieces of the puzzle without really knowing how to complete the jigsaw.
When you promise someone that they will 'learn' something, you're essentially saying that you have put together some information in your vault; they can go in and try to make sense of it. You're not sure what that information will do for them, they may fall short when trying to implement but that's okay, you didn't promise to hand-hold them anyway.
That's the subconscious impact of the seemingly harmless word 'Learn'.
Instead, spark an itch by opening an information gap and use the power word 'Discover' to replace the college professor's favorite word 'Learn'.
Conclusion
Imagine your prospects jumping over a water slide to read your copy. As long as the water is flowing smoothly, they'll be in momentum.
They'll keep sliding with happy smiles. The moment there is some friction, their movement will halt and your conversion goal won't be met.
You want to treat your copy the same way and avoid using stop words that shift their focus away. Your words should help carry the momentum forward.
Slightest traces of friction can bring them to a halt and make them bounce back.
Short blurb about the author of this guest post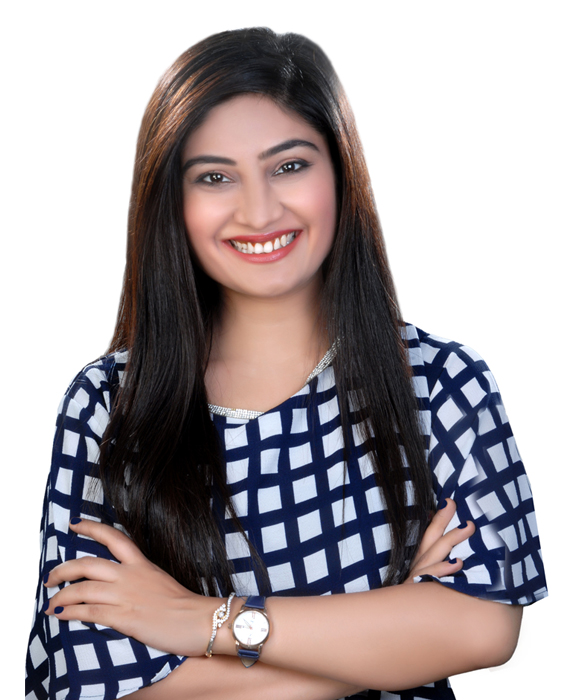 Tavleen helps coaches and consultants sell their signature programs through clear, compelling and highly empathetic copywriting. She can take you from a blank page of doom to an empathetic narrative that sells your offer. Tavleen has been featured at cool places like Huffington Post, TheMcMethod, Sheroes.in and is teaching over 8000 students at Udemy.
She was chosen as the 'Rockstar Speaker' at Rex Conclive 2015 in New Delhi. She can teach you how to make your copy convert right here.
Want to know which words actually convert? Get your copy of the
Wordsmith's swipe file of 328 profit-pulling, non-icky, non-sucky
words that lift conversions, straight from my confidential vault.
Yours for free.